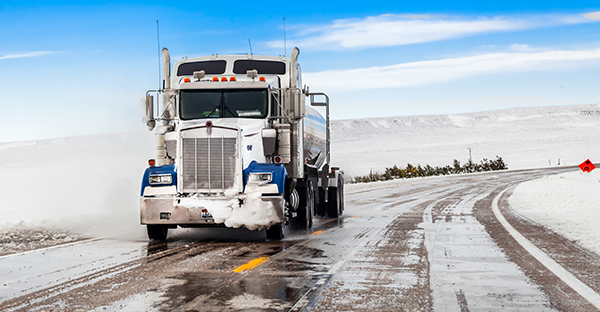 By Paul DeCoste
Did you Know?
It is a safety violation to replace your truck seat with a
lawn chair…
Weather Report
Pennsylvania and New Jersey have
issued travel bans for vehicles
in lieu of a massive snowstorm. Vehicles affected are double trailers, empty trailers, RVs, motorcycles, and non-commercial vehicles hauling trailers. This travel ban went into effect at 6 AM on Monday, December 2
nd
. For more information on which roads are blocked from travel, take a look at the Pennsylvania DOT Facebook page:
https://www.facebook.com/PennsylvaniaDepartmentofTransportation/
Regulations
California Air Resources Board (CARB) has announced that it is
suspending the enforcement of its greenhouse gas trailer standards.
The original standards could be met by adding features to trailers that reduce aerodynamic drag, upgrade the tire pressure monitoring system, introduce low-rolling-pressure tires or other weight reduction methods.These standards were set to go into effect on January 1
st
, 2020 and had to be met by manufacturers of new trailers. However, due to the lack of federal enforcement and confusion among the definition of a "new trailer", the CARB has suspended the implementation of these rules for the next two or three years.
ELD Update
The Commercial Vehicle Safety Alliance (CVSA) is warning
that there will be no leeway on December 17th
for drivers that have no transitioned to approved ELDs.Look out drivers! The CVSA says that on December 17
th
, any driver caught without an FMCSA approved device will be considered to have no record of duty status and will be declared out of service for 10 hours. That's valuable time that no one can afford to lose! Make sure your ELD is in line with the FMCSA rules: https://www.fmcsa.dot.gov/hours-service/elds/general-information-about-eld-rule
Trucking Industry Serving the Community
Truckers serve the community in many different ways and styles.
Here are just a couple of foundations making a difference this Christmas season:
The Convoy of Care – Founded in 2016, Convoy of Care delivers critical supplies to families in need after natural disasters. They have delivered supplies to multiple states across the US and even found a way to get supplies to the Bahamas.
The American Logistics Aid Network – The ALAN provides free logistics support to disaster relief organizations before, during and after natural disasters.
CFI – CFI has been donating through its Truckloads of Treasure event since 1993 and has collected over $800,000 in donations from employees and contractors alike. They choose multiple charities to support each year and even hold fundraising events like chili cook-offs, silent auctions and ugly sweater contests.
XPO Logistics – XPO supports the Ohio based non-profit, Elves and More which helped surprise over 800 children with bikes during the 2018 holidays. They even donated 500 bikes for a Christmas in July event this past summer.
Wreaths Across America – Drivers throughout the industry look forward to participating in Wreaths Across America, a foundation that coordinates wreath laying ceremonies at more than 1,600 locations across the nation. Drivers support by delivering wreaths to different locations and even participating in the wreath laying events.