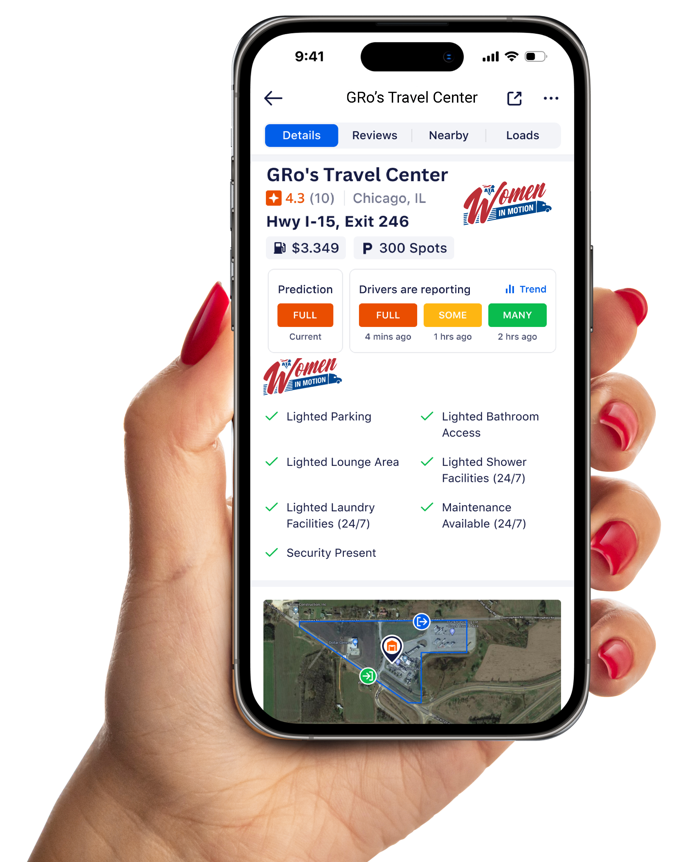 Austin, Texas – Today, American Trucking Associations' Women in Motion proudly announces a strategic partnership with Trucker Path, a significant stride towards addressing and improving the concerns of women while on the road.
"ATA is committed to bringing more women into our industry and addressing their concerns. This partnership between Women in Motion and Trucker Path is a way to address one of the persistent concerns women in trucking express – safety," said ATA President and CEO Chris Spear. "Helping women drivers identify truck parking facilities with essential amenities like well-lit parking, bathroom access and on-site security will play a role in addressing this longtime challenge for our industry."
Through this new partnership with Women in Motion, Trucker Path will be adding a number of features to its existing mobile app that will help women identify and locate facilities that have seven specific features:
• Lighted parking
• Lighted bathroom access
• Lighted lounge areas
• Lighted shower facilities with 24/7 access
• Lighted laundry facilities with 24/7 access
• Round-the-clock maintenance
• Onsite security
Facilities with all seven will be marked with the Women in Motion logo. Drivers will be able to provide updates on the condition of these amenities through the Trucker Path mobile app.
"We are thrilled to introduce this innovative feature to our platform, a decision that deeply resonates with our commitment to inclusivity," said Trucker Path CMO Chris Oliver. "Through our platform, women can seamlessly identify stops along their routes offering amenities catering to their needs, all while accessing real-time information on parking availability. Moreover, they can contribute valuable comments and reviews that will serve as a valuable resource for fellow women drivers. We eagerly anticipate our continued growth alongside Women in Motion as we collectively endeavor to make our industry more inclusive and welcoming for all."
"Women in Motion and ATA have made increasing access to safe truck parking a primary mission, so helping women find those facilities while on the road is the next logical step in our furthering that mission," said Women in Motion Co-Chair Sarah Rajtik, ATA Executive Vice President of Human Resources, Operations and Industry Affairs. "We're proud to announce this partnership here, and we are looking forward to continuing our important work to make the trucking industry safer and more inclusive."
To learn more about Women in Motion, visit https://www.trucking.org/WomenInMotion.
American Trucking Associations is the largest national trade association for the trucking industry. Through a federation of 50 affiliated state trucking associations and industry-related conferences and councils, ATA is the voice of the industry America depends on most to move our nation's freight. Follow ATA on Twitter or on Facebook. Trucking Moves America Forward
Contact: Sean McNally
703-838-1995