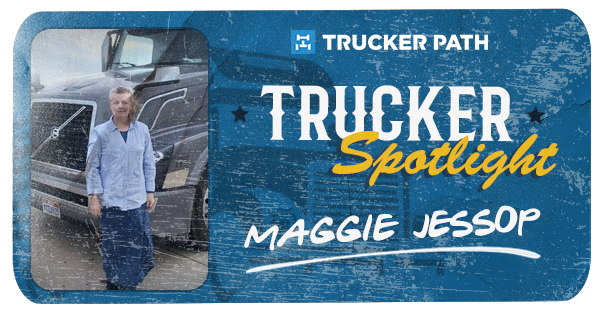 The Trucker Spotlight series explores the lives of truckers and their journey to make a difference in their industry. We interview different truck drivers to understand some life lessons that make them who they are today. We also learn more about their motivations, and the problems that they encounter on the job. We also tackle how Trucker Path's solutions helped them with what they do. The information that they provide helps inform other people who are looking to delve into the trucking world.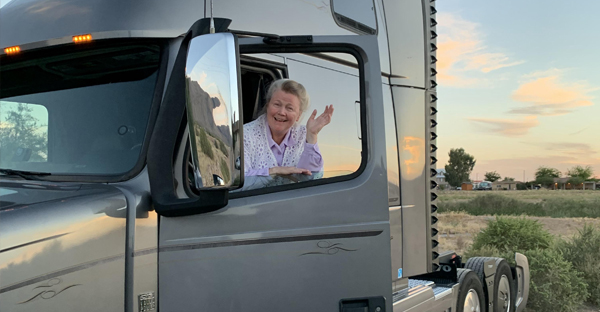 Today we are putting the spotlight on
Maggie
, who's a trucker and a blogger. She's a mother of eight kids (six sons, two daughters). She taught high school language arts over 20 years time while simultaneously managing a sewing manufacturing company. When her children grew up, she felt the need to learn something new so she wouldn't get too old too fast. Let's get to know more about Maggie and her colorful story.
How long have you been trucking?
I got my CDL when I was 52 years old and have been driving for 3.5 years.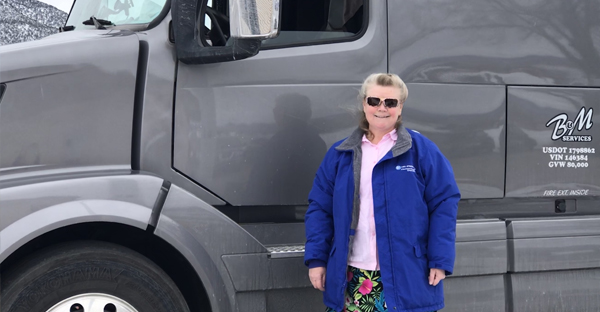 What made you decide to be a trucker?
I went into trucking mainly to improve my circumstances financially. My previous work experience had been in school, office, and warehouse and I excelled in domestic skills like cooking, sewing, and child care. I got really tired of lady wages. It's a struggle to make a living unless you're a rock star, movie actor, or have a string of abbreviations following your name. Trucking was a whole new ballgame with strange new terminology and monster trucks and a terrifying and dangerous environment but it tripled my income.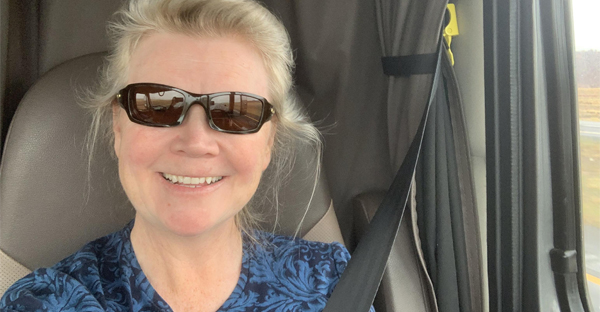 Are there times of loneliness while driving? How do you deal with it?
Trucking can be boring and lonely if I let it be. I use my solitaire hours to think up ideas and write books in my head. During mandatory rest breaks, I write. So far, I have published two full size memoirs, two children's books, and fifteen low content books like coloring books, notebooks, sketchbooks, and journals. Trucking and writing make a great team! Rest breaks are too long. I only need seven hours of sleep.
What made you start a blog? Any chance you'll start your Youtube channel soon? Any plans of being a CDL Instructor?
I keep busy driving 60+ hours per week driving over 3,000 miles. I keep a blog called
Teacher Tailor Trucker
. I am getting ready to publish my third memoir called Stranger in a Strange Land. My fourth memoir comes next and is called Search for the Highroad. It tells the story of my trucking life. I also put out new children's books every few months. I am also planning to create a YouTube channel. I invested in a home recording studio and plan to record songs, contract voiceover work, and record audiobooks.I plan to keep trucking until I can match my income as an author and voiceover artist. Since I have teaching experience, I'm sure I could be a CDL instructor, but my other plans will likely take precedence.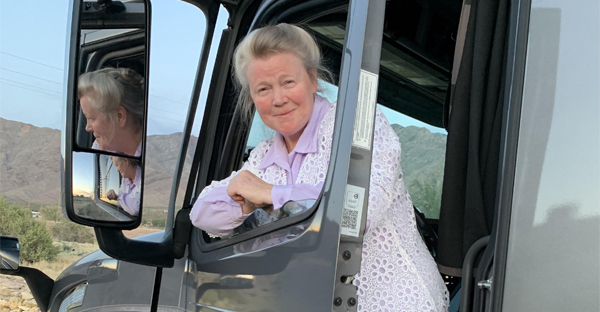 What are your trucking pet peeves?
My pet peeve in trucking is when little car drivers get too close and then want to cuss out the big rig drivers. Car drivers don't seem to understand that a semi truck and trailer is over 70' long and weighs 80,000 pounds when loaded. They take much longer to slow down safely. Cars beware! I try to be patient because I was once a little car myself, but sometimes I have to slam breaks and lay on the train horn to get their attention.
Could you identify the current pain points in the trucking industry? And maybe some suggestions on how to fix them?
When I went to CDL school, trucking seemed to be a male dominated industry. I got yelled at, cussed out, made fun of, and told I was waaay too ladylike and persnickety. "You don't belong in this industry!" they said.They said I would get run over because I'm too nice. They said I'd get taken advantage of by the rough characters in the industry. They said I'd never make it and would give up when I finally realized I was out of my element.I replied that just because I work like a man doesn't mean I have to look like a man or act like a man. I said there's no law in the universe that says truck drivers have to be fat and filthy and foul mouthed and illiterate. I told the naysayers, "I'm not leaving the trucking industry until I make it better."I'm still here. I am a professional driver. I have never had serious trouble on the road. Other drivers treat me with respect. If I ever break down, it's not hard to find a decent truck driver to help me out. I've been treated better by truck drivers than I have by professional office people.As a solo driver, I can control my own environment. I can choose my hours, dress how I please, eat how I please, listen to what I please. I keep my truck clean and I exercise every morning. I work hard and wear a dress because I'm a lady.I mentioned one pet peeve, but the most unsavory thing about trucking that I've ever known is the rudeness and indifference that truckers deal with at shippers and receivers. Office and warehouse workers often treat truckers like they're on the bottom of the totem pole. I don't think there should be a totem pole. I believe that all of us should treat the rest of us with respect. Those who have never been a truck driver have no clue what truck drivers deal with. I sure wasn't aware before I became a driver. My respect has grown by leaps and bounds. Think about it. Every single thing you eat, drink, wear, or use in your home or business came from a truck. The Good Lord provided and a Trucker delivered.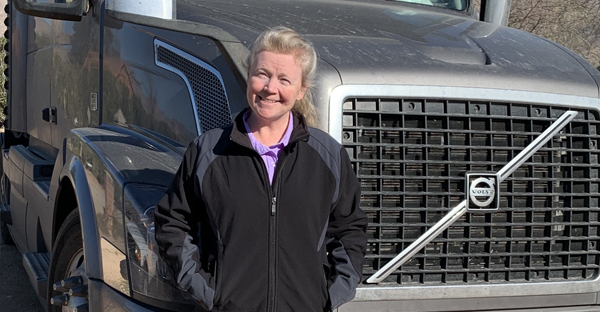 Where can we read some of your stories on the road?
Here are some of my blog posts where I share thoughts and experiences about life on the road. My writing is more on the light side with a humorous approach to life while informing my audience of real life experience. Mine are not the norm but hey, if I can get one smile, it's worth it.
https://teachertailortrucker.com/blonde-moments/
https://teachertailortrucker.com/mama-truckers/
https://teachertailortrucker.com/triple-trucker-trouble/
https://teachertailortrucker.com/hug-a-trucker-day/
By Aldous Aldwin