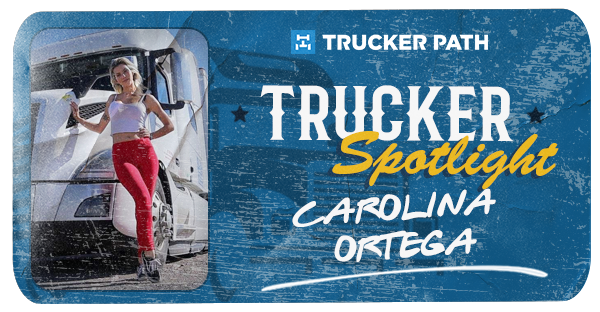 The Trucker Spotlight series explores the lives of truckers and their journey to make a difference in their industry. We interview different truck drivers to understand some life lessons that make them who they are today. We also learn more about their motivations, and the problems that they encounter on the job. We also tackle how Trucker Path's solutions helped them with what they do. The information that they provide helps inform other people who are looking to delve into the trucking world.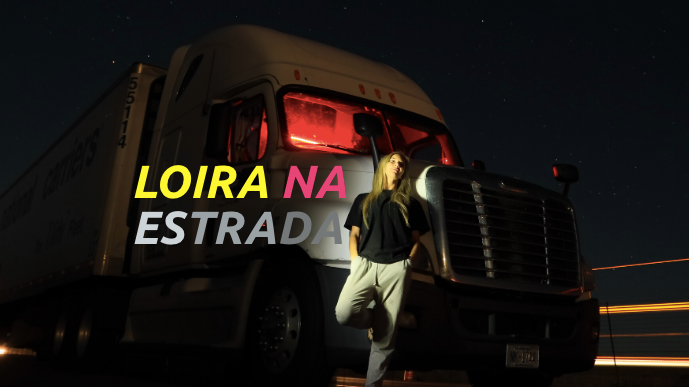 Working as a truck driver at a logistics company,
Carolina
started a Youtube channel "Loira na Estrada" which means "Blondie on the Road", where she gives us a glimpse of her day to day trucking life. She drives an 18 wheeler (VOLVO VNL 860) across United States. We're honored to have a chance to interview her and get a glimpse of her trucking lifestyle.
What made you decide to be a trucker?
The freedom and the lifestyle that this job offers amazes me, plus driving a big machine like that is a honor for me.
How many years have you been driving? What are the significant changes that you've noticed in the trucking industry?
I've been driving for around 2 years now. With the current crisis we are all experiencing, I felt a decrease on the number of the loads and a decrease of load prices on the market.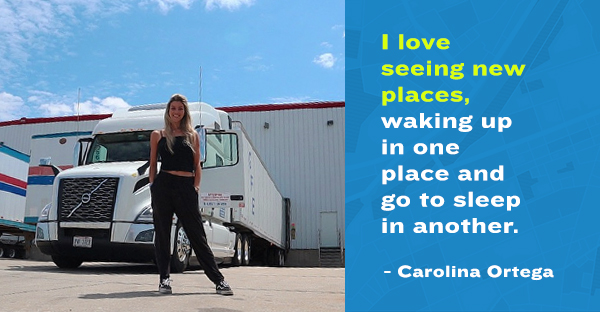 Are there any times of loneliness while driving? How do you deal with it?
I never feel lonely, because the freedom makes me happy and I have everything I always wanted. It's peaceful, I love seeing new places, waking up in one place and go to sleep in another. Traveling every day really makes me fulfilled.
As a trucker, what are the current struggles in this COVID-19 pandemic?
In the beginning of the situation with COVID-19 was hard to find masks and hand sanitizer in the truck stops. But being in the truck actually makes me feel more comfortable because I can keep doing what I am doing and it's easy to avoid crowds. I'd say quarantine in the truck is the best quarantine you could ever have.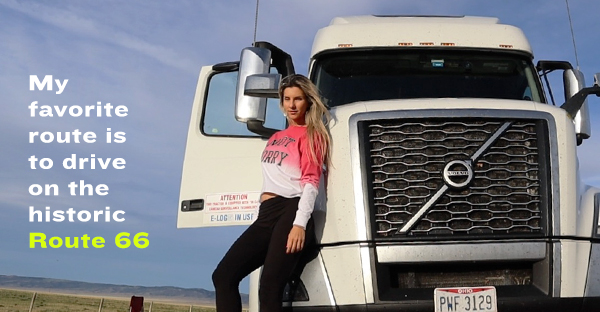 What are your usual routes? Favorite scenic truck route?
Definitely my favorite route is to drive on the historic Route 66, I love to take the original stretch of the Route 66 in Seligman, Arizona. I also love I-80 in Wyoming, I-15 from St George, Utah to Las Vegas is an amazing scenery, I-90 in Montana is mind blowing too, there are so many roads I love to take – mainly the ones in the west side of the country.
Weirdest or most unusual haul?
Definitely live bees was the craziest load I ever took. It was in a flat bed truck when I used to work as a team. It was very crazy, adventurous and kinda funny sometimes.
How often do you use rest stops / truck stops? What are the things that you look for in a truck stop? Favorite truck stop meal?
I use rest stops and truck stops every day either for spend the night, or to put fuel, to eat, to take shower, to use scales, etc. I'm not a fast-food fan so I prefer to find hot meals, more homemade kind food and soups at the truck stops.
What Trucker Path features do you often use when you drive?
I use
Trucker Path
for everything I need about trucking during my work day. Like I can see where are the truck stops and accurate distances, I check the parking availability before I stop anywhere and this is very helpful because it is well updated. I can check if the truck stop I'm going has a shower, how many fuel pumps, scale, mechanic shop, facilities. The app also shows the stores phone number, address and reviews. Also i can see where the truck friendly Walmart's are and the reviews made by other truckers. It's perfect to find also authorized truck shop, diesel prices, weight stations (if they are closed or open). Well this app is so complete that I don't see me working efficiency without it.
Where can people watch your trucking videos on Youtube?
I currently have two Youtube channels:1.
Loira na Estrada
– This is my primary channel. I mostly speak Portuguese here.2.
Blondie on the Road
– A lot of people requested me to do english videos and so here it is.Hope you guys enjoy!
By Aldous Aldwin