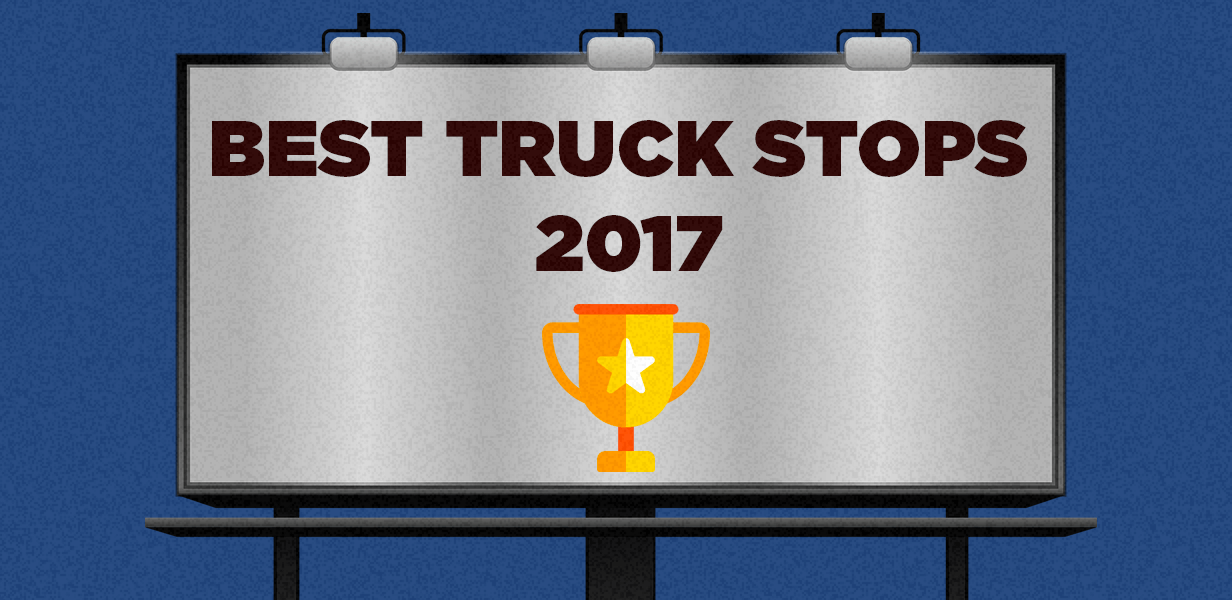 With over 6,000 truck stops in the Trucker Path app determining the best truck stops in America is no small task. But hey, who doesn't love a challenge and a competition to see which is the best truck stop for 2017.
Best Truck Stops
The best truck stops are ranked thanks to you guys! There are over 600,000 truck drivers who update locations on Trucker Path with available parking at truck stops, travel centers and rest areas throughout America. Drivers also comment on their experiences at truck stops by leaving ratings and reviews for fellow users to view.
Whether you need diesel stations to fuel up, looking for a delicious homemade meal like grandma used to make or just looking for a place with truck parking to rest, these are the best truck stops perfect for truck drivers.
Creek Travel Plaza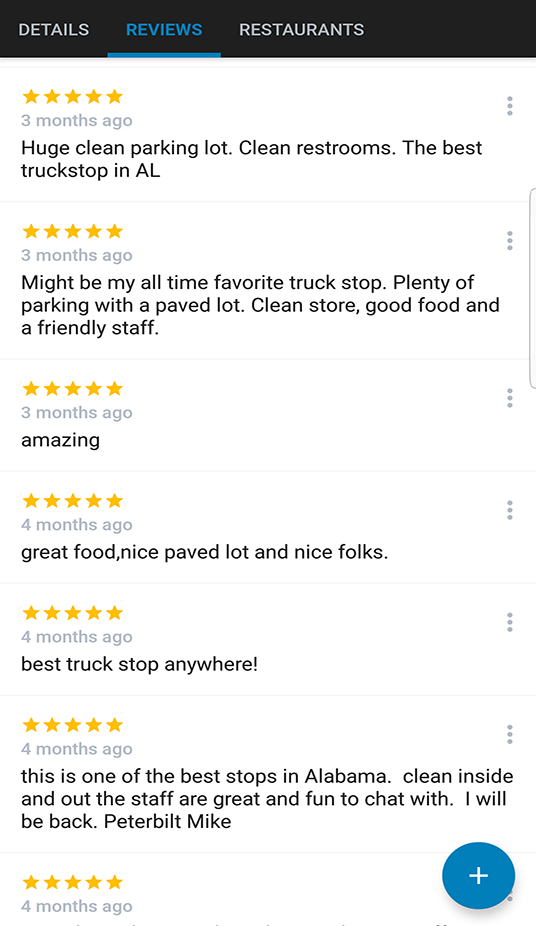 The Creek Travel Plaza is the best truck stop for independently owned truck stops and is a must stop for truck drivers in the Southeast.
What Makes It a Best Truck Stop?
To determine what is the best truck stop, we analyzed a variety of criteria in order to award the best locations found in our app. Truck stops and travel centers with available truck parking, fantastic customer service and useful amenities like showers, repair services, laundry facilities and WiFi found themselves a cut above the competition.
It's no secret, truck drivers love to eat. That's why restaurant options and food quality were also included in our decision-making when ranking the best truck stops. The next time you are traveling through America, be sure to check out one of these nearby truck stops.
Best Truck Stops – Top 10 Truck Stops: 0-5.0 Ratings scale

Best Truck Stops – Top 10 Independent Truck Stops
Creek Travel Plaza – Atmore, AL
Karde's 151 – Monticello, IA
Gore's Travel Plaza – Seiling, OK
Association of Christian Truckers – Brownstown, IL
BJs Travel Center – New Madrid, MO
Hixton Travel Plaza – Hixton, WI
Kwik Trip Travel Center – Austin MN
Kwik Trip #202 – Plover, WI
Refugio Travel Center – Refugio, TX
Texas 87/ Tiger Truck Stop – Esperanza, TX
Look for the Decal in the Truck Stop Window
Recognition of success goes beyond saying congrats. The best truck stops for this year will each receive a window decal honoring the location as the Best Places for 2017. This recognition lets truck drivers know that they have come to the right truck stop.
[images src="https://truckerpath.com/uploads/2017/04/best-places-decal-BLOG-1.png" alt="Cost of parking" width="250px" align="left" ]
Which State Has the Best Truck Stops?
They say in Texas, football is king. While that might be true, there's also room on the throne for the best truck stops. Texas had three truck stops ranked in the top 15 along with nine in the top 100 overall, more than any other state. Meanwhile, Wisconsin finished second with five ranked in the top 100 and Alabama finishing third with four truck stops.
Gore's Travel Plaza – a Historic Truck Stop Location
Gore's Travel Plaza began in 1939 when Floyd Gore decided to open a service station next to his home in Seiling, Oklahoma. Currently, third-generation brothers Tony, Gary and Marty along with fourth-generation son and nephew Derrick continue the family business of serving the trucking community for over 78 years.
"The best part of serving the truck driving community is finding new ways to make their days on the road a little easier. We are here to serve them and our goal is to always be above their expectations," said Gore's General Manager Derrick Gore. "Our staff know that customers come first, before anything else. We want people to leave our facility feeling appreciated and respected. Serving the needs of our customers and going above and beyond their expectations is something that we are proud of and hope they recognize during their visit."
If you're a truck driver but want to earn more and be your own boss, learn how you can
become an owner operator today.